"Great crew and workmanship!  Mike(sales) answered all our questions.. was honest and not pushy.  He was a deciding factor for us purchasing." – Mark Thomas
High-Quality Wood Fencing
Hastie Fence offers a variety of classic wood privacy fencing styles made from beautiful, durable cedar wood. Cedar is the ideal wood for fencing, as it is highly resistant to the elements and to termites. It also ages well, mellowing to a lovely silver-gray color as it weathers. Wood Fencing offers many advantages including a natural look. affordability, & quick installation.
Enjoy Your Yard in Privacy
Our wood fence designs not only look good, they also provide the privacy you want and need in your yard. You can relax and enjoy yourself without worrying about unwanted eyes looking on.
Wood Fence Types
From Post and Rail and Stockade to Victorian Picket and Board and Lattice, our superior craftsmen fabricate all of our products from the finest cedar and pressure treated materials. Wood fence options include:
Spaced Scalloped Board Fence
Cedar Arbor with Spaced Picket Fence
Board Fence with Top Cap and Fascia with New England Post Caps
Dowelled Dogear Board Fence with Classic Post Tops
Tongue and Groove Board with Lattice Top
Locust and Oak Post and Rail with Wire
Scalloped Dowelled Board Fence
Scalloped Dowelled Stockade
Shadow Box Fence
Nail on Stockade
Pressure Treated Post and Rail
Solid Reverse Scallop Board and Spaced Board with Top Cap
More Than Just Fencing
In addition to our wood fencing products, we also carry a complete line of mailbox posts, lantern posts, and arbors. We offer a number of different options to accent your fencing and complete the look and feel of your home's exterior.
 Contact Us for Wood Fencing
Contact us to speak to one of our team members about your fencing needs. Get our design experts working on your fence today!
WOOD FENCING OPTIONS WE OFFER: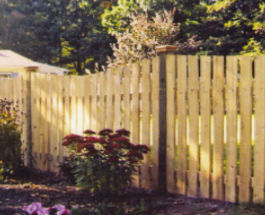 Spaced Scalloped Board Fence
Dowelled Dogear Board Fence
Tongue and Groove Board Fence
Locust and Oak Post and Rail with Wire
Scalloped Dowelled Board Fence
Scalloped Dowelled Stockade
Pressure Treated Post and Rail
Solid Reverse Scallop Board and Spaced Board